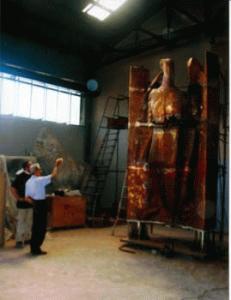 Benedetto Pietrogrande
He studied at the Accademia di Belle Arti in Venice;
he taught at the same academy and at the Art College of Brera in Milan.
Lives and works in Milan.
Present since the 60s in many art exhibitions: Biennial Bronzetto (Padua), Biennial Sculpture (Palazzo della Permanente - Milan), "Sacred Art in S. Simpliciano"(Milan), Biennale di Arese (Villa Reale in Monza).
He has held solo exhibitions and group exhibitions at the gallery-Bevilacqua La Masa in Venice, Gallery D. Fedele in Milan, Center S. Michele di Cremona.
He participated, among other, exhibitions "S. Paul in Contemporary Art "(Braccio di Carlo Magno, Vatican City – 1977) and "Pope Paul VI, a light for art " (Museum of the Duomo in Milan / Vatican Museums – 1999).
It 'won first prize in the National competition for the sculpture "Giovanni Tavani" in 1989.
His works are in public and private collections, such as the Gallery of Contemporary Art of the Pro Civitate Christiana di Assisi, the Paul VI Institute in Brescia, the Diocesan Museum of Milan, and the Vatican. He also made monumental tombs in the cemetery in Milan and other cities of Italy.
E' was a member of the Commission of Sacred Art for the Diocese of Milan.
They spoke of him: Bernardini, Cookies,,it,Nicoletti,,en, Boccardi, Bonometti, Brevini, Brugnaro, Carluccio, Minassian, Monteverdi, Nicoletti, Peduzzi, Perocco, Raboni, Scazzoso, Scheiwiller, Severi.
He has created many works for public spaces, among which we report:
– Cycle modeled bronze for the Temple of St. John Bosco, This – Padua 1965
– Monument to Pope John XXIII, bronze, Corsico – Milan 1973
– Altar, tabernacle, font, Bronze Risen, Wooden Madonna – Capuchin Church – Roman L. 1979
– "Monument to Giulio Natta" (Nobel Prize in Chemistry), Ferrara 1980
– Three-dimensional stained glass window for the church of S. Anthony, Corsico - Milan 1982
– Peace Monument, stone and iron, District Figino - Milan 1983
– Peace Monument, stone and iron, Grisignano - Vicenza 1986
– "Mary Mother of the Church", bronze, Centro Congressi Castelgandolfo 1987
– Wooden Madonna for the ecumenical center of Cadine - Trent 1990
– Carrara marble baptistery in the Church of the Risen, Chiavari - Genoa 1990-91
– Wooden statue of St. Angela Merici, Shrine of the same name, Desenzano (BS) 1992
– Via Crucis 14 windows in the Church of God the Father, Milano Due 1992
– Portal of the Church of Scaldasole Bronze - Pavia 1993
– Via Crucis, Crucifix and Mary and St. John Group, bronze, Trinity Church - Vimodrone 1995
– Tabernacle and altar frontal in the restored Romanesque Basilica of S. Maria Assunta in Calverley 1997
– Bronze door, altar and figures of saints to the Church of S. Martin in the Vatican 1999
– Stone sculptures for the altar and the entrance arch of the Church of SS. Cyril and Methodius to Tarragon – Rome 2000
– Stained Glass for the Church of S. Eugene, Milan 2002
– Monument S. Michael, bronze, Monza 2004
– Bronze Risen Christ for the church of Milan 3 – 2005
– Bronze tabernacle for the pre-Romanesque chapel of the Martyrs Basilica St.-Ananuensi Simplicianus, Milan, 2005
– Altar, ambo and seat, bronze and stone for the church of St. Mary's Suffrage – Milan 2006
– Bronze panel for the centenary of the Institute Gonzaga - Milano 2007
– Statue N. S. Fatima, Carrara marble, new church SSTrinità , Fatima 2008
– Via Crucis, crucifix and tabernacle, Focolare Movement Center Chapel, Rocca di Papa 2009
– Stained glass church God the Father, Milano Due 2011
– Bronze portal at St. Joseph Basilica Triumphal, Rome 2013